Mowgli Surf's Alex and Philip Seastrom on making surfwear fun again
Story by Tess Eyrich // Photos by Chantal Anderson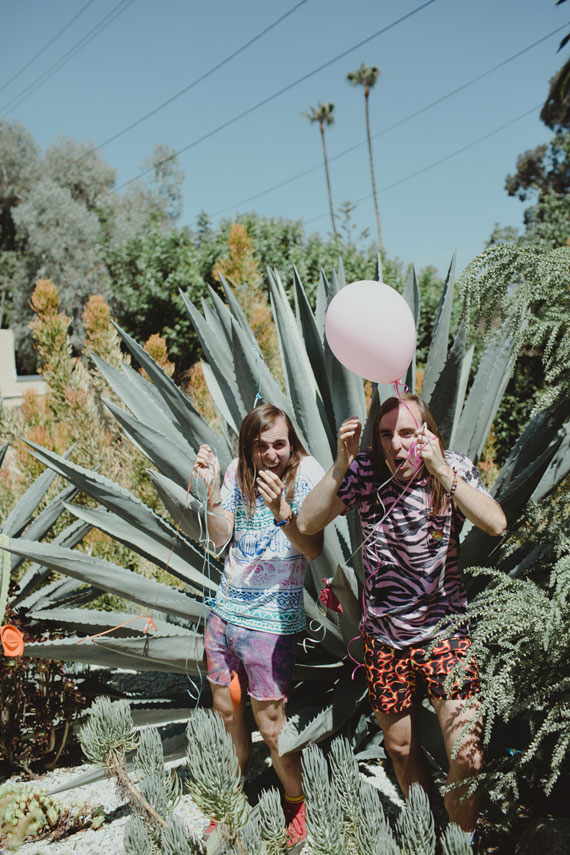 A few years back, Alex and Philip Seastrom got tired of contemporary surfwear—in particular, the cargo shorts and black t-shirts with white logos that'd become unwelcome paradigms of 2000s fashion. "We saw a hole in the market; no one was really making exciting clothes," Alex says. "Everything was all black with the longest shorts imaginable—the ugliest shit possible." That's why in 2009, the twin brothers decided to launch Mowgli Surf, a line of '70s-inspired separates in psychedelic prints and patterns, many of them the result of by-hand dye processes, done from their parents' house in suburban L.A.
Though the line wouldn't hit stores until 2011, the guys' affinities for clothing and art (Philip started out designing skateboard decks, and both brothers made money in high school selling vintage Powell Peralta gear they'd purchased from a distributor in China) led them to L.A.'s Fashion Institute of Design & Merchandising, where they mastered the technical aspects of the industry. After graduating, they snagged their first account, Thalia Surf Shop in Laguna Beach, Calif., and since then, the line has snowballed into a full-fledged brand that's carried by both local surf shops and heavy-hitters like Urban Outfitters' Without Walls and cool-girl favorite Nasty Gal.
"Mowgli is California design," Philip says. "All of the other surf brands are darker and kind of all over the place, but Mowgli is Southern California fun—that's what we do. If you see our clothes, I want you to think, 'I'm going to go to the beach and have a good time.' I want you to think about California."
And even though they're both Southern California-born surfers, the 25-year-olds are quick to assure that their line is anything but exclusive (they swear they'd love to see their clothes on everyone from Tom Cruise to the guy sitting next to us at breakfast). More than anything else, they just want everyone to feel a little more comfortable—nah, a little cooler—wearing Mowgli pieces.
"People are kind of afraid to step out on a limb and wear color," Alex says. "I like the '70s a lot because everything was about being sexy—the short shirts, short shorts and long socks."
"Now, you'd be surprised by how many guys are self-conscious about their legs," Philip adds. "But clothes are cool because they reflect how people see themselves. They're about how you want the world to see you outwardly, and I think that's really special. If I make a shirt that makes a guy feel cool, then that's awesome."
See more of Mowgli here >>>